There is a video sharing site you may have heard of while playing Chuhou Joutai called VidSpace. This is basically the precursor to YouTube in the modern days. Some characters in the game, such as Kagami Ochiai, use it. Susumu Takajima previously used it, before he got busted by police for supporting SPASDOT, before he joined the Kozanese Royal Defense Force. But you'll want to know the background behind the site.
Early beginnings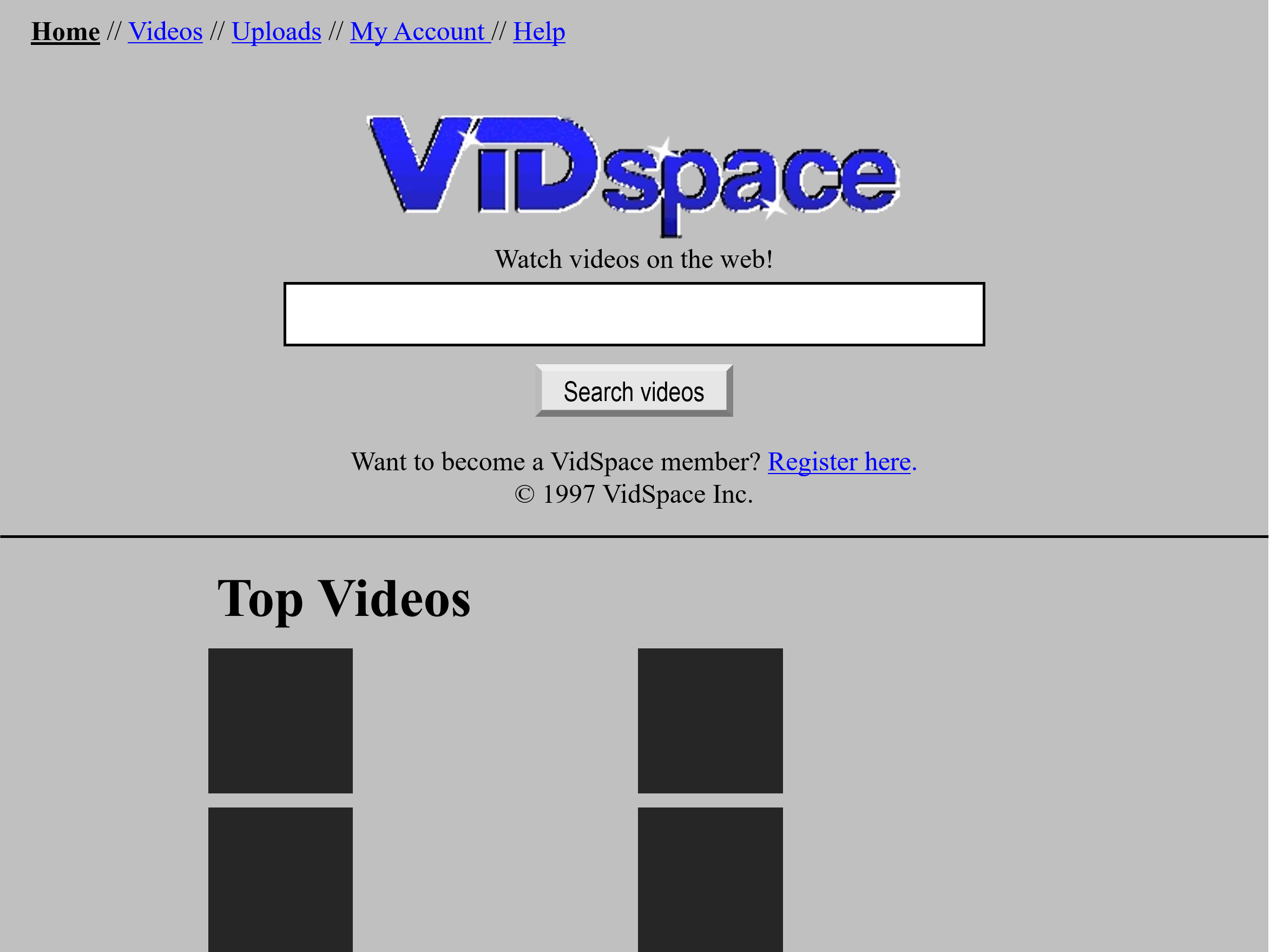 The developent on VidSpace began in the early 1990s in 1992 by computer programmer Tyrrell Takara. Because internet access bandwidth and video transcoding technology was limited during that time period, a plugin called the VidSpace Player had to be developed. The first version of the player was capable of streaming embedded MPEG-1 videos with WAV audio within a webpage. Since Takara had little experience with website development, he hired a few employees from the internet company Netspace to help him create the site.
The site entered beta testings in 1995, and officially launched on January 17, 1997. More than 50 videos were uploaded during the developmental period, and during that time, many multimedia players added support for the site. Their main offices were located in El Kadsre City, while their servers and international mainframes were based in Glonisla. The site still had a setback of problems though.
At first, their custom-designed Linux-powered mainframes were prone to playback and rendering errors, 500 Internal Server Errors, and in some cases browser crashes due to faulty hard drives. Server engineers were given special tools to repair the dead drives. Their business end were made of a patented lead-hardened Tyvek mixture developed by University of El Kadsre students, and formulated to prevent damage to the internal electronics during repair.
Rise of VidSpace
Following the success of the site, competitors took notice and began making clones of the site. In February 2001, VidSpace launched the premium subscription service VidSpace Plus, which allowed users to upload longer videos, play videos in higher quality, and get new features earlier than other users. In August of the same year, people were allowed to upload videos with a 16:9 aspect ratio, but most monitors were 4:3 at the time. Although not unheard, people were allowed to upload videos with 576i playback. In 2003, the site migrated to Adobe Flash.
VidSpace's role in Chuhou Joutai
The site gained extensive public scrutiny in December 2002 after the battle in Rockton of Daiyashin province which started the Kozanese Civil War when it was reported that Crimsonites were using the site to spread their rhetoric in hopes of recruiting individuals to SPASDOT. As a result, VidSpace updated their policies regarding extremist content, and any videos which depicted it were banned from the site, and the site began suspending accounts that were in support of SPASDOT.